Paseando un poco en internet, leí en el blog de Miguel de Icaza acerca de las múltiples preguntas que la comunidad le hace acerca del negocio Novell – Micro$oft.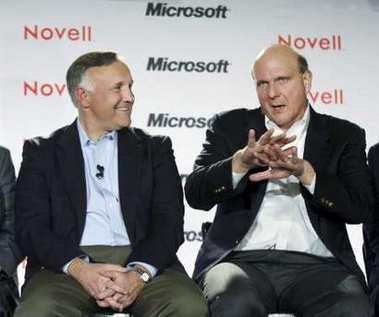 Microsoft CEO Steve Ballmer (R) talks as Novell President and CEO Ron Hovsepian
Sencillamente, por el momento se lavó las manos. Espero que pueda dar su posición clara a la brevedad posible.
Pueden ver el link al blog
http://tirania.org/blog/archive/2006/Nov-07-1.html
y aquí los transcribo.
Thanks for sending your questions, some questions I could not answer myself, and I passed them on to Novell.Novell has now posted the answers to some of the most frequently asked questions
here
In particular, this covers the GPL section 7 questions, and our commitment to
OIN
(the patents listed today in OIN's site are Novell's contribution to the pool).
Alex Celi