VAMOS A REEDUCAR EL PLANETA
Somos más de 500 millones de latinoamericanos que le decimos al mundo:
AMÉRICA ES UN CONTINENTE, NO UN PAÍS…
AMERICA IS A CONTINENT, NOT A COUNTRY…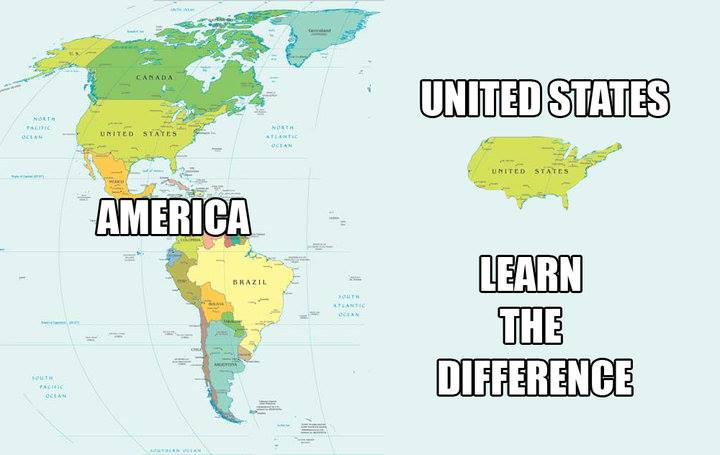 América, desde el norte, con Alaska, México, Estados Unidos y Canadá hasta la Patagonia con Argentina y Chile es un continente. Tampoco Norteamérica, ni Estados Unidos, son términos ni nombres exclusivos. Inclusive el de "Estados Unidos" sigue siendo usado por México y también por Brasil y en Venezuela lo fue hasta 1864. Convénzanse, mis estimados amigos de los "Estados Unidos de América", América es un continente y no un país, una nación o una patria y ustedes, como dicen sus documentos y monedas, son Estados Unidos de América. Esta América común con numerosos países e instituciones americanas: la Organización de Estados Americanos, el Banco Interamericano de Desarrollo, el Consejo de las Américas, etc., que comprueban lo afirmado.
La Real Academia Española recomienda que «debe evitarse el empleo de americano para referirse exclusivamente a los habitantes de los Estados Unidos, uso abusivo que se explica por el hecho de que los estadounidenses utilizan a menudo el nombre abreviado America (en inglés) para referirse a su país. No debe olvidarse que América es el nombre de todo el continente y son americanos todos los que lo habitan». Son muchos pueblos, naciones. América es un continente y, como es usual, un continente con norte, centro y sur.
Ninguna de las naciones americanas es América por antonomasia y por eso es oportuno, cumplidos ya mas de 500 años, que el nombre no lo monopolice nadie, pues América y americanos somos todos y no tan sólo Estados Unidos de América y sus ciudadanos; ¿qué nación europea, asiática o africana ha pretendido jamás ser Europa, Asia o África? Evidentemente en el caso de nuestro Continente, América, el hacerlo es un despropósito.
(English)
AMERICA is the name of the continent where lives Americans, Canadians, Mexicans, Brazilians, Argentinians, Chileans,… The real name of country you mean is United States of America: USA. I do know that people who live in USA are called Americans because there is no other possibility to call them. PLEASE have in mind for the future because this is a kind of offence for countries of Latinamerica. America was discovered by C. Columbus who really discovered Latinamerica and not USA.
https://es.wikipedia.org/wiki/Uso_de_la_palabra_americano
http://www.eluniversal.com/opinion/111109/america-es-un-continente
LATINOS EUROPA
Hacemos valer nuestros derechos como AMERICANOS!
Alex Celi